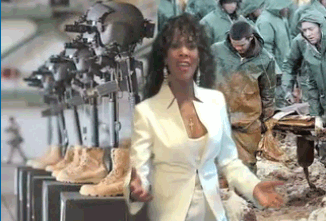 Click here to see Avis performing her new single "America"
PRESS RELEASE
FOR IMMEDIATE RELEASE
CONTACT: TANISHA JACKSON
Jackson Talent at 412.519.4072 or (323) 243-243-1257
AVIS HARRELL RELEASES A NEW A PATRIOTIC R&B SINGLE
Los Angeles, California – Nearly a year after her debut solo release, "Self Contained", Avis Harrell returns with "I'll Be Here When You Return", a deluxe single release dedicated to the troops serving in Iraq and Afghanistan. The smooth mid-tempo ballad is paired with Harrell's take on "America The Beautiful", a song Harrell recorded as a Raelette with Ray Charles. To complete the package, a music video/mini movie for both songs is included. The deluxe edition release is available at www.cdbaby.com/avis2.
"I'll Be Here When You Return" is inspired by "Wish You Were Here With Me", a Vietnam-era ballad Harrell performed with her sisters, as The Fawns. "Wish You Were Here With Me" became an underground soul classic, telling a story of a young woman's devotion to her lover overseas fighting in the war and is still being played today on local radio stations in Washington D.C. Harrell revisits the theme with a slightly more mature groove. The vibraphone shades on "I'll Be Here When You Return" offer a subtle tribute to "Wish You Were Here With Me".
Her recording of "America The Beautiful." Offers full gospel fervor with a contemporary edge to the song whose definitive rendition was recorded by her former boss and mentor, Ray Charles. The song is Harrell's tip of the hat to her time with Ray Charles. Once again, she has arranged, played & produced a project that I'm sure will be enjoyed for years to come.
A portion of the proceeds from the sale of this release will be donated toward food and supplies for the troops in Iraq and Afghanistan. Be sure to visit www.cdbaby.com/cd/avis2 for her latest release or www.cdbaby.com/cd/avis for "Self Contained" Other websites are www.myspace.com/avisharrell to get updates on Ms. Harrell's latest projects and appearances.