AVIS HARRELL W/ WAYNE NEWTON & THE JIVE SISTERS
&
FRIENDS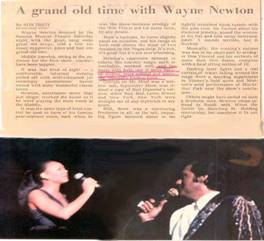 Our performance on The Jerry Lewis Telethon with Don Vincent and the
Wayne Newton Orchestra was a night to remember!
Top: Wayne Newton

L: Mona Scank, Center Melody Westmoreland &

R: Avis Harrell.

A night at Caesars' Palace.

R to L Marvin Gaye, Avis Harrell, Wayne Newton, Lola Falana & Gorgeous George
When Wayne Newton chose me from The Raelettes, it was a very difficult decision to make. I had such a bond with the girls, but I felt I had to take advantage of another opportunity in my career. So, I joined Wayne 's entourage with the sultry Mona Scank and the beautiful operatic voiced Melody Westmoreland. Wayne Newton was one of the kindest and most generous entertainers I have ever had the pleasure of supporting. He gave me at least a half hour in his show every night and together, we brought the audience to their feet with our duets. It is clearly understandable why he is called "Mr. Las Vegas ". He has it all and the exchange of our musical relationship gave way to a mutual respect. I love you Wayne ! Thanks for the opportunity.
Dimples ( - ;